A Denver Athletics source tells LetsGoDU that the University of Denver is "monitoring and following University protocols" regarding the Coronavirus but has no plans in place to cancel travel or restrict attendance at home games. Obviously, that could change as the situation develops.
The NCAA recently created a coronavirus (COVID-19) advisory panel ahead of the upcoming First Four basketball games in Dayton and other upcoming collegiate basketball tournaments for March madness. In the interim, Chicago State has cancelled regular conference basketball road trips to California and Utah and would not host its scheduled games against the same opponents – even tho Utah, Kansas and Missouri have no reported incidents of Covid-19. UMKC followed suit and will not play its road game at Seattle this weekend due to concerns over coronavirus, the Western Athletic Conference announced Wednesday.
As of this writing, the State of Colorado has no reports of Coronavirus.
The approach taken by the University of Denver seems sensible based on current research evidence. The  New England Journal of Medicine provides some early insights into the disease and its spread. Research "suggests that the overall clinical consequences of Covid-19 may ultimately be more akin to those of a severe seasonal influenza (which has a case fatality rate of approximately 0.1%) or a pandemic influenza (similar to those in 1957 and 1968) rather than a disease similar to SARS or MERS, which have had case fatality rates of 9 to 10% and 36%, respectively.2 "
But the science may be trumped by public fears.
Could DU's much anticipated Loveland Regional be free of fans or cancelled altogether? Possibly. Could the women's gymnastics championships be impacted in Fort Worth, Texas, a state currently battling the outbreak of the Coronavirus? And what about the lacrosse finals in Philadelphia being cancelled or played in front of empty seats? Too early to tell at this point but scientists' expectations project the disease to decline significantly with the onset of warmer weather.
The risk, ultimately falls on the elderly with compromised respiratory or immune systems – and become infected by people carrying the virus. "The median age of the patients was 59 years, with higher morbidity and mortality among the elderly and among those with coexisting conditions (similar to the situation with influenza); 56% of the patients were male. Of note, there were no cases in children younger than 15 years of age. Either children are less likely to become infected, which would have important epidemiologic implications, or their symptoms were so mild that their infection escaped detection, which has implications for the size of the denominator of total community infections."
And the chart below shows Covid-19 spread is the same or less than many other diseases according to Popular Science: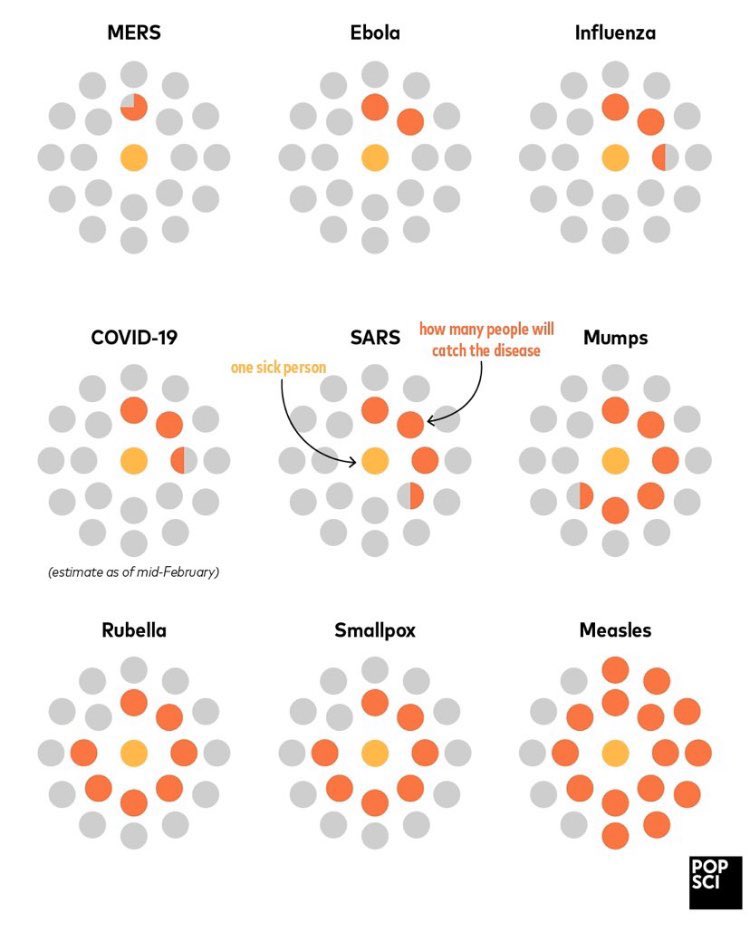 As for what we can do going forward, The World Health Organization recommends frequent hand washing, limited public contact (social distancing), avoid touching eyes, mouth and nose when possible and seek medical help if you experience fever, cough and/or difficulty breathing.