Like all Pioneer fans, it has been weird not seeing DU hockey in the NCAA Tournament over the past couple of weeks but DU did have yet another undefeated weekend in spring sports. There were plenty of big wins this past weekend and still lots of excitement remaining in this academic year.
The sports weekend started with a triple-overtime DU women's lacrosse (8-1, 6-0) thriller, ended with a nifty goal by DU's Bea Behrins, 14-13. Her game-winner was the #8 play in SportsCenter's Top Ten on Saturday.
Nothing like waking up to a #SCTop10 play.
Another look at yesterday's 3OT winner from The BB-Gun.#PioneerTogether pic.twitter.com/faAk48WBpx

— Denver Women's Lacrosse (@DU_WLAX) April 10, 2021
Denver women's lacrosse provided a more conventional 11-7 win on Sunday against the Huskies to remain undefeated in BIG EAST play with two games to go and a two-game lead over second-place UConn.
We told you about DU Men's Lacrosse's (9-2, 7-0) 10-goal third-quarter outburst against Villanova to also remain undefeated in the BIG EAST with three games left in the regular season, including a rematch showdown with Georgetown in Washington, D.C. next weekend and the previously-postponed and still unscheduled trip to Villanova.
Denver women's soccer (14-2-1, 14-1-1) traveled to Kansas City and wrapped up the Summit League regular-season title with two 1-0 victories over the Kangaroos. On Friday, Natalie Beckman, of course, netted the game-winner at 42:21. On Sunday, Kaitlyn Glover netted the game-winner at 63:33 assisted by Alex Nillenand Natalie Beckman. While the scores were close, Denver dominated both matches.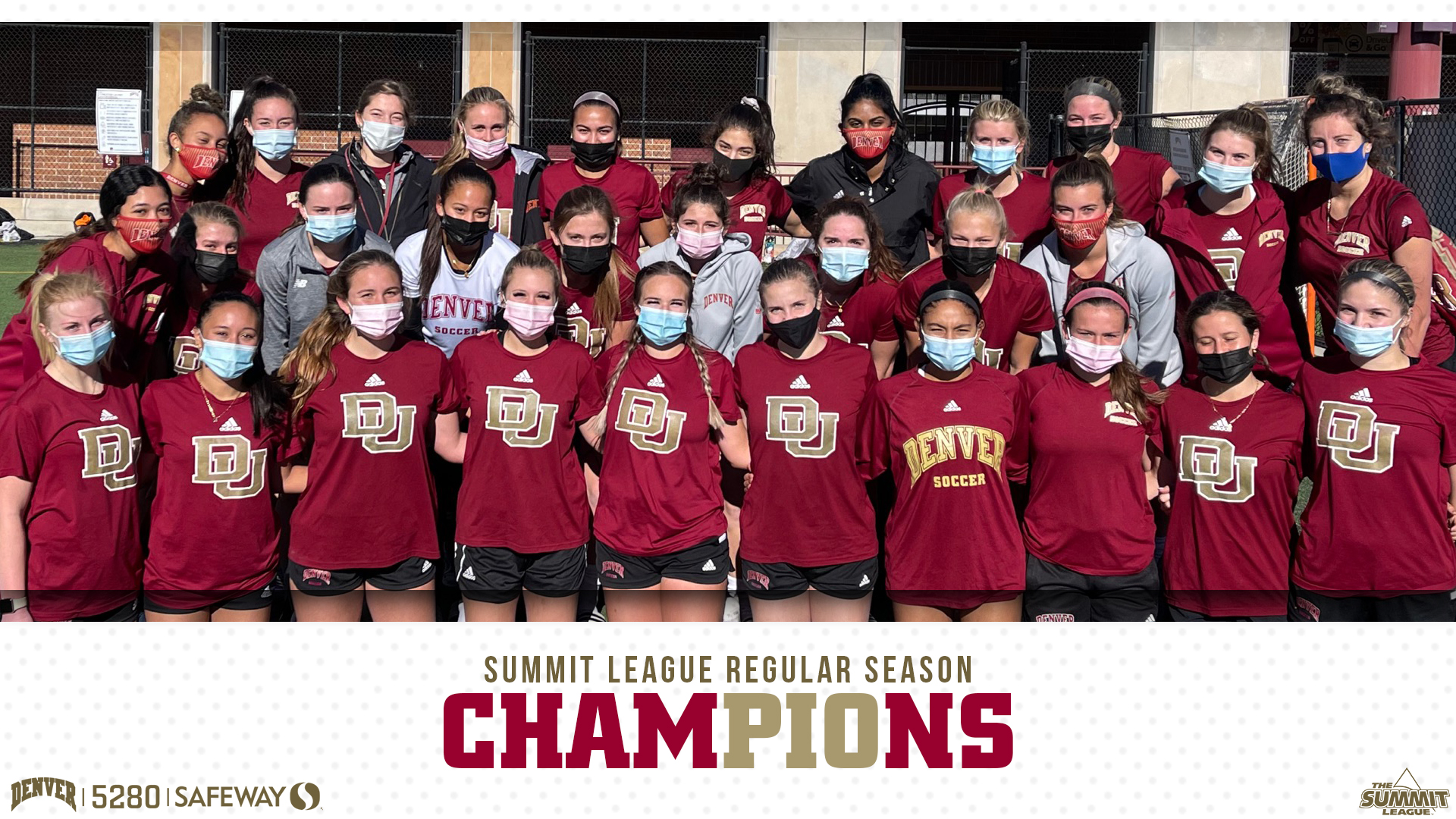 Denver men's soccer (5-2) traveled to Eastern Illinois and also won a critical match Saturday 1-0 on a goal by Destan Norman. The Pioneers remain in the fight for a Summit League title and NCAA berth. Denver must defeat Eastern Illinois this afternoon (12 pm MT) to remain in the hunt with its season-ending home and home series against Omaha looming next. If Denver wins today, they will have a half-game edge over Omaha with two games to go. 1st-place ORU finished play at 6-3-1. This is a huge week for the men's side.
DU men's tennis (13-3, 4-0) downed Drake 4-3 at DTC Friday and traveled to North Dakota and defeated the Fighting Hawks 5-2 on Sunday to win the Summit League regular-season crown.
I've lost count on how many our regular season titles @UofDenver @DU_Pioneers have won this year. Congrats @DU_MTennis ! https://t.co/K814JA6FLG

— Jeremy Haefner (@DU_chancellor) April 12, 2021
Saturday, Denver women's tennis (10-3, 3-0) also played in North Dakota and downed the Fighting Hawks 6-1.
7 straight and 10 of 11 in the win column.#PioneerTogether https://t.co/UOTROuhy1h

— Denver Women's Tennis (@DU_WTennis) April 11, 2021
Denver men's golf continues to gear up for the Summit League championships starting May 1st by traveling to North Carolina and playing in the Stitch Intercollegiate Tournament. Denver women's golf is in Albuquerque, New Mexico today at the Dick McGuire Invitational. After day one, the Pioneers are first out of eleven teams in the tournament heading into Monday's final day of play.
🧠 : Fees like a lot of winning recaps lately. 😁
📊: WWWWWWWWWWWWWW…….
🧠: @DU_Pioneers are on 🔥🔥 https://t.co/mDgJteh9nu

— Niko Blankenship (@NikoBlank21) April 12, 2021
And, don't forget, DU gymnast Lynnzee Brown will contend for individual national titles in the all-around and on all four events during Semifinal I, which is set for Friday, April 16, at 11:00 a.m. MT in Fort Worth Texas. Brown will rotate with the University of Florida's team and begin on bars. Individual NCAA championships will be awarded after results from both April 16 semifinals are combined.